The duo you've been waiting for!
"Cousins by blood, sisters by choice."
– Lauren Ash
True Crime and Cocktails is a podcast featuring two grown women, who wear matching shirts while they get buzzed and talk all things true crime and mystery! It's like a true crime slumber party!
While Season 1 focused on the new Netflix Unsolved Mysteries episodes, Season 2 is a Famous Fatalities edition!! This will include mysterious celebrity deaths like Brittany Murphy, Princess Diana, and Tupac Shakur, as well as highly talked about documentaries like Murder on Middle Beach and Tiger King. The episode possibilities are endless!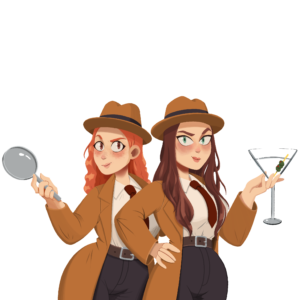 True Crime and Cocktails is hosted by sister duo
Lauren Ash and Christy Oxborrow!
In the driver's seat is Canadian actor Lauren Ash! You may know her from her roles as Dina in NBC's Superstore and Scorpia in She-Ra & the Princesses of Power. Lauren currently lives in Los Angeles.
Riding shotgun on this true crime journey is Christy Oxborrow! While Christy may not be well-known yet, her deep dive research skills are already getting attention. Christy is a full-time Mom, and part-time Internet Sleuth. She currently lives in Saskatchewan, Canada.
About The Artist:
Graduated from Bellecour (Lyon) in 2018 with a Bachelor in Concept Art, Angie BEGUE aka PurpleBones is a french illustrator, character designer and visual development artist based in Reunion Island. LGBTQI+ and intersectionality feminism activists, they love to create and draw strong character representations and are passionate about emotions through stories.